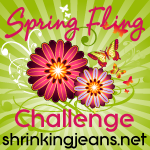 Today I am all angsty.
My "Christie On a Treadmill at the Mall" event is Saturday and each day that passes, I won't lie, in theory I think it's hilarious that someone will make a spectacle of themselves by walking on a treadmill in their mall wearing whatever, but on the flip side, I am becoming increasingly aware that that person
will be me.
My self-consciousness is showing. Maybe if I can get through another cup of coffee, I can be awake enough to maybe shut my brain off.
My chest is starting to hurt a little and I have nervous knots in my stomach!
I'm sorry. That's not why you're here. You're here for the weigh-in. Which is not good news, my friends. So, I will sum it up for you.
What works: daily accountability posts in "The Hood" with the rest of my friends at Team G.
What doesn't work: Throwing all caution to the wind and stuffing my piehole with the only bacon buffet I can find at a convention aimed at bloggers who blog about health.
What works: Finding the time to run more than 12 miles during the weekend of a convention aimed at bloggers who blog about health.
What doesn't work: Immediately after, splitting an entire pizza. And dessert. (And I am not naming names with whom I've shared this experience.)
All of that equals a 1 pound gain and that's the end of that. So now that I know what
doesn't work,
I will try to spend the rest of the week working on what
does.
Not that I've started off well this week
because I drowned my stressy sorrows in McDonalds cheeseburgers today.
OK so. Starting over. Startinggggggggggggggggggggggggggg NOW! And by the way, head on over to the
Sisterhood of the Shrinking Jeans
-- visit the other sisters who are trying to get healthy, show them some support and read about the awesome
party
going on!
* * *
Psst! Become a fan of
Christie On a Treadmill At the Mall
on Facebook!
Please help me fight cancer by donating
HERE
. I'll even give you a present! Check it out and read about who I'm running for
HERE
!
Follow me on Twitter.
Subscribe to my blog
.