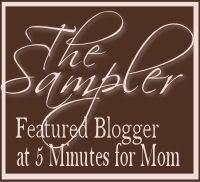 I've been feeling very introspective lately.
As my one little boy nears 8 months and the other nears 2 years, there is sleeping through the night and harmony in the house, the dust has settled and I get to breathe in deep and take a look around my home as a family of four and I feel just so thankful.
For the longest time, I've wanted to send my little Ryan a "thank you" note of sorts.
He saved me.
He took me down a road I didn't think I'd ever be ready for again, a second pregnancy. My prayers have been answered in so many ways I can only believe that I've witnessed a lot of little miracles in my life. How honored I feel that the wonderful ladies at 5 Minutes for Mom thought
my story about that experience
was worthy of sharing! I am so honored! Thank you!
So if you are here from
5 Minutes for Mom
, thank you for stopping by!
There's a lot going on in this head of mine and most of it ends up here on this blog. To my husband's chagrin. I like to tell stories about my friends and my family, about repeatedly trying (sadly) to relive my youth (re: the Slip N' Slide disaster of 2008), I like to trade the wonderful, enormous amount of support with my new friend bloggers in endeavors like weight-loss (post-baby for me) as you may see by the Summer of Me weightloss challenge that's about to wrap up (I've thought about maybe starting up another one soon -- maybe a "Hot for the Holidays"? Hmm.)
Anyway, I hope you get a chance to look around and come back sometime for some tea. I love meeting new people so I hope you say hi!!