My husband thinks it's just sooo funny. I can whip up a dish and make a yummy meal, I can take care of two kids, multi-task, I have a college degree, a professional background...

But I can't keep a plant alive. Examples of this are here: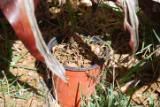 And here:
Poor plants. And yes. It's all my fault. They die of neglect. Most days I will pass them and think, "Boy, I really should water that." And the next day when things are looking grim I think, "Oh boy, he really should get watered!"
And then when things are looking really destitute, I do the "rush to revive". I finally water. Profusely. And pray a little. But by then, in most cases, it's too late.
I did it again
. And it's sad. I even do this with plants that actually require little no watering at all. Like bamboo plants.
My husband says that when I get the itch to garden, which is oh, about once a year and usually around this time of year, and I walk into a garden center, the plants cower in fear like I am the gardening version of the Grim Reaper. And the ones I have chosen are sure to meet their death.
Nice.
So the other day, when I got the itch to garden, I was especially excited because I found some beautiful hanging baskets with these gorgeous, lush, red, overflowing impatiens. And I can never find really pretty red impatiens when I am actually looking for them. Red impatiens are some of my favorite flowers because they are so colorful and pretty, yet they exist and even thrive in the shade, which happens to claim most of my front yard.
And this time, I bought the impatiens along in their boring white plastic hanging baskets...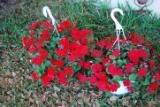 But I ALSO decided to get some wrought iron baskets with the liner that's supposed to be good for the plants' roots...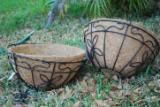 I even bought fertilizer!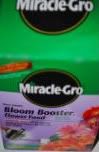 And used it!!
The kids even helped...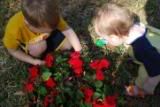 Because of course I want to teach them about caring for things...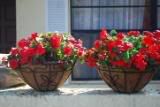 Don't they look pretty???
So maybe there should be a bet going here so that I can be held accountable for my plantlife. How long can I keep my hanging baskets? A couple weeks? A couple months? Anyone on the over/under? And when/if they die, how long will it actually take for me to take the hanging baskets/slash/dead plants down? Because that's a whole 'nother issue entirely...

We'll see. Because I have slowly chiseled away any faith anyone has had in me and my ability to keep plants alive. When I excitedly brought my new flowers home, with their new hanging basket-homes, and started describing my newest project/acquisition to my husband by saying, "I got these beautiful red impatiens and I even got them real hanging baskets!" He responded by saying, "Aren't you pronouncing it wrong? By baskets, do you mean 'caskets'?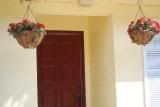 Nice. Well anyway, there they are. My pretty red flowers in their hanging caskets.