I love Seinfeld. I can watch reruns of Seinfeld episodes all day every day and there isn't a single episode I haven't seen. Remember the one where George gets three months off work and proclaims it "the Summer of George!"?

Well guess what. This is the summer of ME. And you. And you. And you over there, too.

This is the summer slimdown part deux. Summer slimdown: the sequel. But to change it up a bit, we're calling it the:




"I Proclaim this the Summer of ME!

Weightloss Challenge

"
The last go-round I lost 12 pounds.
I ran a 5K
. I posted my
big fat picture
like I said I would. (Yes I let it all hang out there for you internets to see).
Janeen,
who lost 5, tied
Catie
for first place and it was a toss up for a $50 spa gift card, the grand prize. We had prizes throughout and there was a lot of ups and downs shared and friendships made and it was a lot of fun. A few of you asked to keep it going, so ye ask, and ye shall receive! ANYONE CAN JOIN!
Here's what we're doing. Leave me a comment and let me know you're joining. It officially starts Monday, June 23 -- which is coming up quickly!! One of my favorite quotes to get this going on your head is this: "If you fail to plan, you plan to fail." And it's true. If I do not plan it all out, I doom myself to failure. And I am not failing this time. I am not.
So, plan. Trust me on that one. Then, we begin. June 23rd.
It will end Friday, July 25. That is four and a half solid weeks of slimdown fun. Why July 25? Because I have to stuff my big fat a&& into a bathing suit the following week for vacation, so that is my next goal. Like I always say, you gotta have a goal, right? That's my biggest piece of advice. Pick something to look forward to, a goal for the end of the challenge. Find a 5k in your area to run. Find an event you really want to dress up for. Find an outfit you really want to wear. Anything you want! That, combined with a weekly check-in on our Fat Ticker Fridays, and you've got yourself some old fashioned homegrown motivation! Take your body back! Take your life back! Don't you want to shop in any store and not cry in the dressing room? (Yes, I have cried in the dressing room before.) All I can say is this: THIS IS THE SUMMER OF YOU!
So, lace em up and get moving. I lost 12 pounds of baby fat (17 total since my baby was born) and I have about 20 more to lose to get to my ideal body weight. Won't you join me? Like I always say, safety in numbers!
Rules:
-Leave me a comment between now and the 23rd telling me you're joining and what your goal is. -Post something about it and link here to the contest.
-Grab a ticker like the one on my sidebar and start the count!
-Then, stop in every Friday for "Fat Ticker Friday" to post your results from the week. Be sure to visit everyone else too! Encouragement for the other participants is key to keeping up the motivation!
-You must weigh in to be eligible for the prize drawing each Friday
-If you want to donate a prize for weekly drawings, please feel free! E-mail me! Prizes=even more motivation! It's almost fail-proof! (Except, I won't lie. It is work. It's hard work. Damn hard work. But it is SOOOOO worth it. Especially if you're not alone doing it.)
Here's the button code: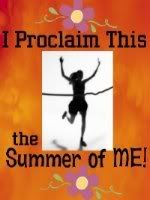 And for those of you in the world where it is not summer at all, but instead, winter, (I know of at least one participant for which this is true!!) Here is another button!! :)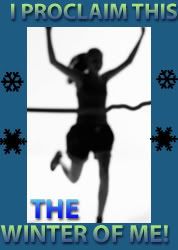 The best part is: Our growing prize list!
(contact me at christieo_7 at msn dot com for prize donations)
-Set of body wash, lotion, bubble bath and a loofah from Bath & Body Works
-T-shirts from
One More Mile
,
a really cool online running gear store (you must check out their great slogans!My personal favorite is "Stress relief in progress")
-One More Mile will also give a magnet or a sticker with one of their cool slogans on it to anyone who reaches their weight loss goal during the challenge
-Free Customized Blog Design by
Doodlebug Designs
-Set of three lotions, Tranquility, Sleep, and Energy
-Camelback Hydration Pack (this is one of my favorite things ever!)
Simple as that! And I'll see ya on the flip side!