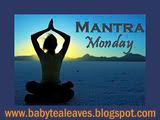 Change is good. Sometimes I forget that.

I usually take a spin class Saturday morning. The head spinner is a guy who is much older, gray hair and gray beard, same red shorts every time; and he's got a pretty huge following. You have to show up to class at least a half hour before to reserve your bike. People like him. I like him.

But I ran Saturday instead, so I had to take the Sunday spin class. An entirely different person. A lady, probably a good 10 or 15 years old than me, and ripped.

She had more energy than my 3 year old. She'd randomly burst out into song. When it got hard, she would make you go harder. When you could barely even push the pedals around one full revolution because the resistance was so ridiculous, she would yell, "MORE!" And then make you go faster. Or at least try to. I thought to myself, I want to be her.


I like her.

And as she was completely kicking my A$$ and my legs were on such fire, I thought that if I didn't start smiling soon, I mean, grinning a huge ear-to-ear smile, I would cry instead.

Yes, I actually thought I might cry. The lady almost moved me to tears.

There is something about an intense workout that gets the blood and the chemicals and the hormones moving that sometimes move you to wanna cry. Kind of like on The Biggest Loser, when the contestants are pushed to the brink.

I felt that. And I thought, GOD THIS IS HARD.

I was getting all emotional and crap. On my spinbike.

Then all of a sudden, as if out of nowhere, Tom Hanks appeared. He was yelling at me. He was wearing his baseball uniform and he had a mouth full of dip. And he bent down and put his face right up in my face and his dipspit was hitting me in the cheek (ew) and he was yelling, "IT'S SUPPOSED TO BE HARD. If it it wasn't hard, everyone would do it."

And I felt disgusted for a minute by my few seconds of weakness. And I bucked up. I gutted it out.

He's right. Yes, it was hard. What do I expect? Change is hard. Changing your body is hard. Leaving your comfort zone is hard. It's supposed to be. If it wasn't, then everyone would be ripped. Everyone would run marathons. Win Olympic medals. Swim across oceans. Climb mountains. (Kill spiders.) Have their dream job. Live their dream. Whatever the goal is. Everyone would reach it. If it were that easy.

And then I heard him say the last part of his sentence: "That's what makes it great."

If you don't remember, this is all Tom Hanks circa 1990s in A League of Their Own. He was yelling at Geena Davis for giving up baseball because it "just got too hard."

But that is exactly what makes it great. When you come out the other side, not crying, and fully and completely alive, in every sense of the word, that is what makes it great. When the classes, the runs, the bikes, the swims, the reading, the cleaning, the preparation, the work, when it all starts paying off, and you actually made it and are a better person for it, that's what makes it great.

It's not just about baseball. Although that is really pretty great. It's about getting through the "hard" to get to the "great."

Sure, it would be nice to get a "free pass" to great. But really, where's the fun in that?


* * *
Join the Mantra and I'll add your link right here!