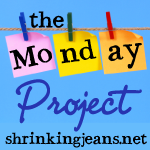 Last Monday, we started something fittingly called "The Monday Project" at
The Sisterhood of the Shrinking Jeans
. (I've heard some sisters calling it "homework" but I'd like to refer to it as a project... haha!) Anyhoo. It's part of the new "Rethink Your Shrink" challenge where I am challenging everyone to get all introspective on themselves, recognize patterns and obstacles to living a healthy lifestyle, and henceforth go forward to grab life by the, um, HORNS.
We link up our projects on Fridays and can I just say,
what an amazing experience this has been so far!
If you want to read a little more about the project, click here. And if you want to read my story, click here.
Have a great weekend everyone! If you want to participate, it's never too late! You can still link up your story at the Sisterhood! And yep! There will be a new project on Monday!


Follow me on Twitter.
Subscribe to my blog.