G'day, mateys! It's another weigh-in Wednesday with the Sisterhood of the Shrinking Jeans! (Don't know what that is? Go to there now!)

So I re-joined Weight Watchers last Wednesday. I couldn't be trusted. I don't do well without plan and I can't be trusted. I wish I did well solo, but I don't. And plus they were running a special. Of course, the same day I joined was the same day I had a McSplurge because I can be a McLunatic and I screwed myself out of any extra points for the week, which was case in point for why I can't be trusted. I felt like eating my arm off all week but to be perfectly honest, I don't know how many points are in one arm, so that wouldn't have worked either. On a lighter note (pun intended) I did have a Beck's Light, 64 calories, which is 1 POINT! ONE! I recommend you go to there. Wait, maybe have breakfast first.

So after all that, I did stick to my points every day. I didn't have my "extra" points because I devoured them. But I did earn some activity points by riding 30 miles over the weekend and doing spin class and I dipped into some of those. (These Weight Watchers peoples are generous.)

Week four of the challenge and week one of Weight Watchers:
1.5 pounds. WOOT!

So I'll take one of these little babies, thankyouverymuch!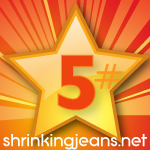 Because I've lost 5 for the challenge so far. Woohoo!! (*happy dance here and song* Shawty -- it's your birthday! We're gonna party like -- it's your birthday!)
Now, last night, we had some fun on Twitter. Because it was Tuesday and The Biggest Loser was on and we like to do our "last chance workouts" during commercial breaks but since they're on Twitter, we call them "Tworkouts" (clever, right?) Basically, April
punishes us
tweets out exercises for us to do during commercials and we do them and our husbands or cats look at us like we're nuts. This week a few of us had some fun and videotaped it. So here's my little video! I am still in my workout clothes from spinning and I'll tell you, today the back of my legs are toast. In a good way. So, enjoy! If you're on Twitter, join us for our Tworkouts! (9 p.m. Eastern/8pm Central and there's also a West Coast version!)
(Thank you so much, You Tube, for making
that shot
the freeze frame. Awesome.)
Oh and guess what??? The Sisterhood is up for a Shorty Award!!! Can you go to
there
and vote?? Pretty please??? We're thisclose to being in the top 5!!!! All you need is a Twitter account!
Hope you did fabulous this week!!!
Follow me on Twitter.

Subscribe to my blog
.