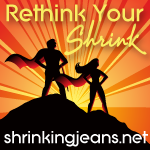 Wow, is it done already???
Rethink Your Shrink
is done??
That went fast.
Well, I did pretty good, if only my anniversary weren't at the tail end of this challenge!
An anniversary in which there was dinner and great steak and a piece of chocolate cake the size of my head.
I did lose for the challenge, though not as much as I had wanted. Looks like this week I lost a half a pound (wow is all I can say for that and that's in a good way.)
Total for the challenge: 4.5 pounds!
Which I think is pretty darned good and this challenge was exactly what I needed to get back on track after the holidays. And there are a lot of things going on that will keep me in check for the immediate future, like for instance I am officially participating in the Team Shrinking Jeans half-marathon in San Diego! I want you to meet the beautiful woman I am running for right
HERE
. I need to raise a lot of money to get there, any and everything counts! So I will be opening it up for a vote, if I meet my fundraising goals,
I will let YOU vote on what kind of crazy I do
. The options:
-Faux hawk
-Dye hair purple
-Eat mushrooms (GAH!)
-Get a tattoo (fake or real... hmmmm.)
I am taking suggestions for the list for the next week and a half that I'll add to the list, so suggest away! I will vlog whatever you decide I do. Voting will begin in a week and a half! Until then, won't you consider a donation?? To
me
or the
team
, either way is great!
In other health-related news, I got back from a weekend away with the husband (we went to Orlando, a theme park and dancing! Woohoo! Right up my alley!) We were on a wonderful we-love-our-relationship "high!"! And then the kids were sick (debbie downer.) 102.5 fever upon walking into my parents' door.
So we've been inside all week, sick. No school, no one can come over to watch them. My poor guys. Every week, I swear.
Because of days like these, I bought an indoor bike trainer to stick my bike on and ride away. Because I cannot swim or run while the kids are sick, I may as well do something! And I'm looking at 4-5 days of only weight-training and DVDs, and those options would be great
if I weren't training for a triathlon!
So I bit the bullet.
And IT.IS.AWESOME. I got my ride in yesterday! I rode for 30 minutes, I caught up on the Today Show while the kids napped, it was perfect! It was amazing! I wish it were a little quieter, but it didn't seem to bother them, so I guess it's fine! The great part is that I can set it up anywhere I want. If I want to go in the driveway and put my headphones on, I can do that. If I want to ride in front of the tv, I can do that. If I want to ride in the office, I can do that! And any time I want! On my own bike!
So awesome.
Not sure if I'll ever catch up on everything since we've been sick since December and I've been frazzled for the entire month, but right now I will drink coffee.
I can't wait for the new challenge, have you heard about it yet? The Shrinking Jeans Olympics? I know! It's awesome and I can't wait! By the way it starts in two days. Hope to see you there!
TA TA for now!
Follow me on Twitter.
Subscribe to my blog
.