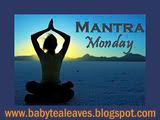 Happy Monday!! How was your weekend?? It was a good weekend for me. A great weekend, really. I got my bike! Woot! My dad and I rode and it felt so good. I have to say, when it comes to a bike for someone like me who's five-foot-nothin', size totally matters! I have a bike that actually fits me. Until now, I never realized that every bike I ever had in my entire life has been way too big for me! I always felt like the bike had me, that the bike was in control, that the bike would launch me off at any given moment (and has, actually. There was that one time riding to biology class in college, a bloody knee, yada yada yada...) Not to mention that bar. You know the bar. The bar. The one that makes life miserable for any girl who falls forward off the seat.

But no problem here! I love my bike. I feel like a kid again.

But I'm coming up on the final four weeks of training for the triathlon and between the workouts and actual life, it's starting to get a little crazy. The inner panic is starting to set in about how on earth I am going to fit everything in.

So this Mantra Monday, it's about strength. I've found that pretty much anything in my life, or anyone's life for that matter, necessitates a great deal of strength. It really doesn't matter what it is. It could be a resolve to quit smoking, to not pick up that phone after a breakup (or drive by someone's house 150 times), it could be strength for willpower in working out or (ugh) dieting, it could be for someone facing illness or tantrums or financial hardship, physical weakness, it doesn't matter.

We all need strength. Almost every day I ask myself, God, or whoever's listening, for strength.

I've been known to stand in my living room among the screaming and crying, whispering to myself, "Oh God, please give me strength..."

At the end of a busy day when a certain little boy is discovered in the bathroom, covered in mommy's deoderant...

I've been known to say it on the first mile of a run that doesn't seem like it's going to pan out. Or in labor. Twice. And the millions of times in the inbetween. I need strength to keep going every day, in the face of whatever. Because at any given moment, weakness is hanging out, peeking from around the corner, waiting for "strength" to go on his coffee break so he can sneak up from behind...

Weakness is out to get me. But I'm not gonna let it. I need strength in such a way that I'm wearing it right now and it just happens to be one of my newest additions at my Etsy shop. So if you're in need of strength, guess what??? I'm giving it away this week to a lucky commenter!!




Just leave a comment telling me what you need strength for and I'll randomly select the winner and announce it on Saturday. The contest closes Thursday night at 8 p.m. ET. You can earn another entry by "Following" me, and another entry if you post about the giveaway on your own blog and link to it. That's three chances! You must, however, leave a comment for each entry.

Good luck! I hope that strength is plentiful for you as you go about your week! Happy Mantra Monday!


* * *
Wanna join in the Mantra? Let me know you've posted and I'll link you right here!