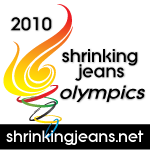 Good morning! I am having the best time doing the Shrinking Jeans Olympics! For the span of the Winter Olympics, we have events going on every day (only these ones are doable -- no triple sow cow necessary or whatever that's called) at the
Sisterhood of the Shrinking Jeans.
You really gotta check it out
here
, and plus there are medals involved! Sort of.
Anyhoo, I'm down one pound this week.
Which is amazing because I didn't count points this week thank Goodness I didn't say that out loud.
I didn't eat perfectly but I have religiously worked out, even when I was
left all alone
home last week alone with two sick kids. I bought a bike trainer (I even vlogged one of the workouts but apparently the camera wasn't pointed up high enough, so it was 40 minutes of headless bike rider or riding torso, depending on whether you're cup half full or empty. And I rode my own bike inside the house every day that I couldn't get away to the gym. (LOVE!) I'll try the vlog again at some point too. But I actually don't remember when my last "day off" was. Which isn't good! We must take days off! I think mine will be Friday.
OH YES, AND HEY! I'M GIVING SOME STUFF AWAY!
I make these necklaces, it started out as a necessity because I couldn't find one that I could work out in that was short like a choker. So I bought the leather myself and started making them and I put affirmation rings on them ("Discipline," "Focus," "Courage," "Strength"- inspirational messages.) Of course, I also have silly ones (like the one I'm wearing), "I Need More Cowbell."
I opened up my own Etsy shop and started selling them and have had a great response!
Anyway, remember how I'm training for a half-marathon to fight cancer with the sisters of Shrinking Jeans? If you donate $20 or more (
RIGHT HERE
- and completely tax deductible), I'll send you a necklace of your choice (with a leather or satin cord, your choice.). If you donate less than that, I'll send you my silicone "Strength, Focus, Discipline" bracelet. (Picture of that is
HERE
.)
AND ANY DONATION WILL ENTER YOU INTO A RAFFLE FOR A $50 gift card to Dick's Sporting Goods or Barnes And Noble -- your choice.
So pretty please? I've only raised 1% so far. Don't you feel bad for me? I'm pathetic.
ps. I'm going to do something crazy when I reach my goal and I'm letting you vote on it starting next Monday!!
Have a great week! I hope you did wonderfully and I can't wait for the new challenge, I hear it's starting soon and it's really really cool!! Meantime make sure you go visit the rest of the
sisters!
Subscribe to my blog
.